The staff and I are pleased to announce the relocation of our office to 11 Raymond Avenue, Suite 35, Poughkeepsie, NY 12603 in what is commonly known as the Bank of America Building.  Telephone and fax numbers are the same as are our e-mail addresses. If you are ever in the area, please stop by to see us and our new "digs"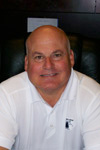 About David Pisanelli
David Pisanelli Esq. is President and General Counsel of River City Abstract. He can be reached at david@rivercityabstract.com.